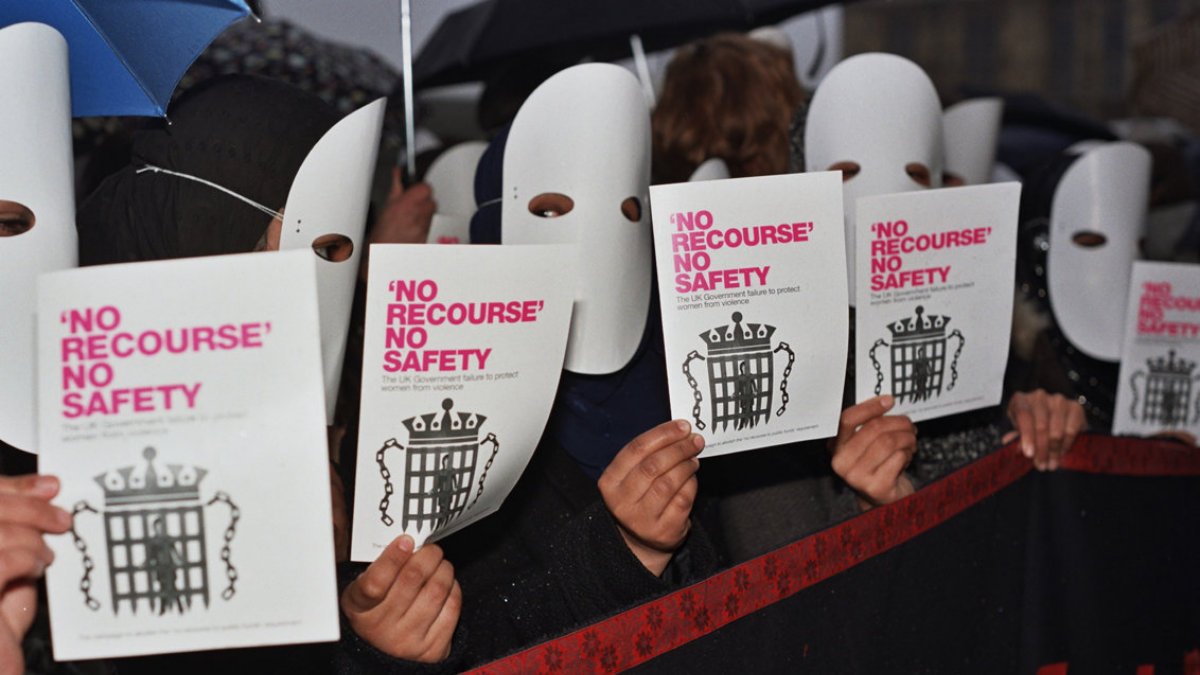 This article appeared in our magazine for Labour Party conference 2022
By Ben Tausz, Camden Unison
As inflation bites, our battles to raise wages, benefits and emergency support become even more acute questions of dignity, basic wellbeing, and survival. Yet for the 1.4 million people affected by "no recourse to public funds" (NRPF), equal access to social security remains out of reach.
The NRPF condition, applied to people with various immigration statuses and the undocumented, denies those migrants and their families the rights to social housing and a range of essential benefits including Universal Credit. Shamefully, the rule originates from the Labour government's Immigration and Asylum Act 1999.
Even before the most recent jumps in living costs, in 2021 Citizens Advice found that 81% of people with NRPF were behind on at least one essential bill – four times the rate of the general population. Almost a quarter already could not afford to heat their homes, and a fifth had experienced homelessness or housing insecurity.
Thanks to campaigning pressure, those with NRPF were included in April's £150 cost of living Council Tax rebate and this autumn's Energy Bill Support Scheme. But as well as being locked out of basic benefits, they will not be eligible for the Winter Fuel Payment, the Cold Weather Payment, or the cost-of-living payments targeted to pensioners, disabled people and the worst-off; and it is left to energy companies' discretion whether to grant them the Warm Home Discount. As we approach a brutal winter, this could be a matter of life and death.
Exploiters and abusers
We often discuss this as a cruel humanitarian crisis – which it is. The labour movement must also understand NRPF as an attack on workers' collective strength.
A strong and universal social security system doesn't just support those in need – it empowers all of us at work. The threat of destitution is a whip for employers to keep us in line. When any group of workers knows that no safety net will catch them and their families if they lose their jobs, there is more pressure on them to keep their heads down and continue in hyper-exploitative or outright abusive conditions.
Even the Local Government Association – not exactly a bastion of workers' radicalism or socialist internationalism – acknowledged that NRPF leaves migrants repeatedly vulnerable to modern slavery.
This is one of the many ways in which bosses keep down pay and conditions. So it can affect the going rates for all workers.
NRPF, and immigration enforcement more broadly, also empower exploiters and abusers at home. Survivors subject to NRPF often face homelessness and destitution if they flee their abusers. And police have been known to take victims to the immigration authorities when they come forward to seek help.
When our government ratified the Istanbul Convention on Preventing & Combating Violence Against Women and Domestic Violence this year, it even exempted itself from the clause requiring states to protect migrant women with residency dependent on their partner.
Steps forward and back
At 2019's party conference, Labour members, trade unions and affiliates voted near-unanimously for our motion demanding an end to NRPF. Though this was ignored in the drafting of the subsequent manifesto, there have since been some hard-won victories beyond the intra-party debate.
It was the pandemic that really thrust the issue into the spotlight. In March 2020, as the Westminster and devolved governments announced 'Everyone In' policies to give shelter to rough sleepers, they waived immigration status restrictions – for once, public health was prioritised above racist posturing.
Of course, the Tories soon rowed back, advising local councils in May to resume excluding people with NRPF. But research by Shelter found that about half of England's councils ignored this and continued to shelter them. (Shamefully though, Labour-run councils were not consistent. One migrant woman had to sue Lambeth Council to avoid being left on the street in 2021.)
Also in May 2020, Labour MP Stephen Timms grilled Boris Johnson about a constituent with NRPF, left without help during lockdown after losing their job. (That constituent would become one of many. Despite 'Everyone In', rough sleeping in London actually increased in 2020, swelled partly by people who lost their jobs without a social safety net.) Timms bounced Johnson into admitting he did not know what NRPF was, causing a stir that further boosted the profile of the issue.
That boost surely aided the campaign that forced the government to make permanent another temporary pandemic measure – the extension of free school meals to children of parents with NRPF. That was a significant victory for a struggle that campaigners such as North-East London Migrant Action had been leading since before Covid, also supported by the Labour Campaign for Free Movement. This provision does remain means-tested, so our call for universal free school meals remains to be won, but this was a major advance against a particularly egregious example of racist state cruelty.
Most recently, last month after a consultation, the Department for Education said it would extend means-tested childcare for the most disadvantaged two-year-olds to families regardless of immigration status, "as soon as is practicable" (so let's keep up the pressure to follow through – and to make free childcare universal).
Battles to come
The Tories will continue to divide-and-rule, telling us we can't afford to support both migrants and non-migrants. But the labour movement can't afford not to fight for a strong and completely universal social security system, both as a matter of basic humanity and as a backstop that can help shift power in the workplace in our favour. And we know that there is plenty of wealth to go around – we just have to take it back from the rich and big business.
Labour's frontbench currently appears too timid to seriously challenge the racist right's narratives. It falls to the grassroots of the party and the unions to turn up the pressure. The labour movement must commit itself wholeheartedly to the migrants' rights movement, fighting to finally end NRPF and win decent social security for everyone.