National Meeting: Labour Campaign for Free Movement
Posted: 28 May 2019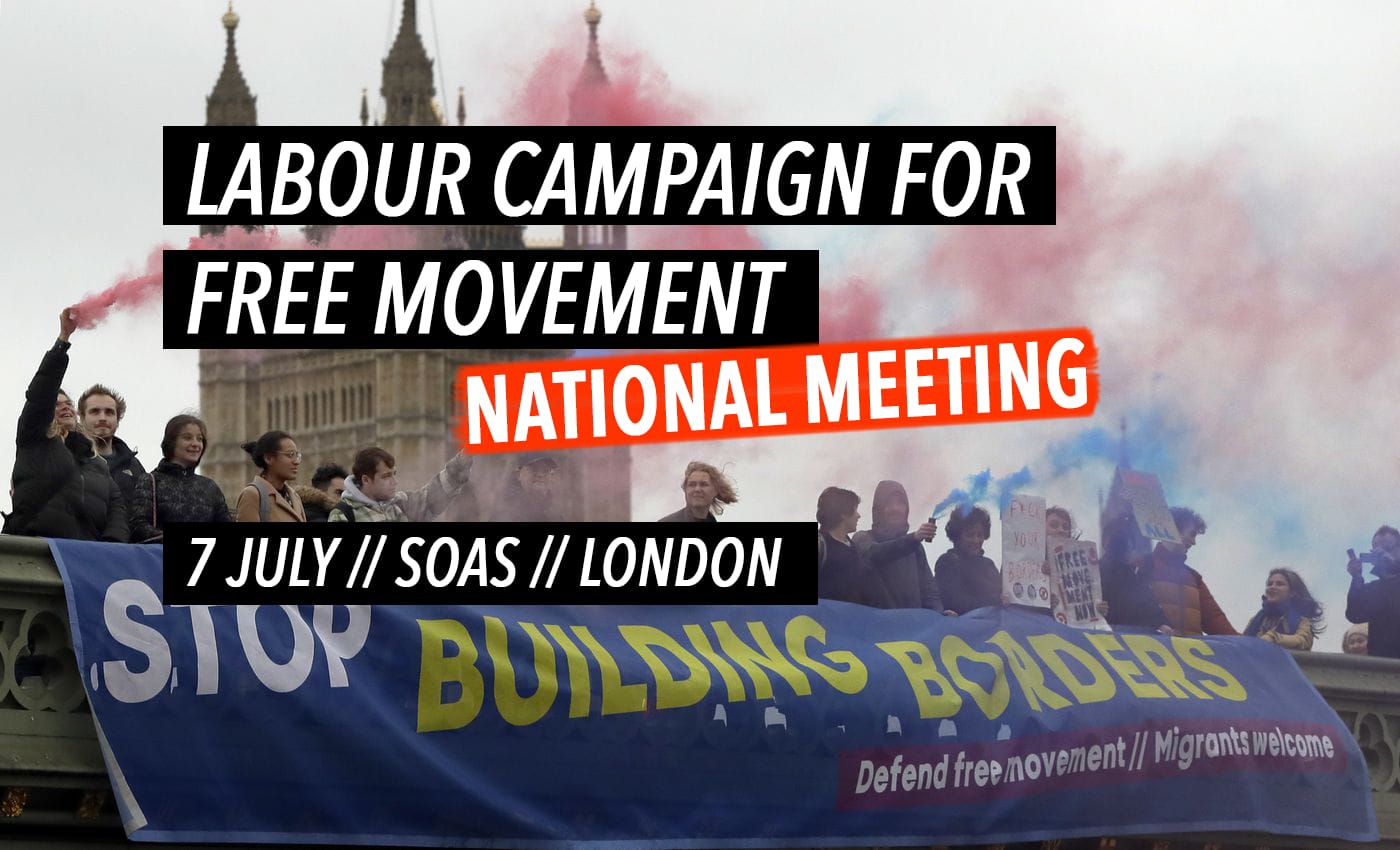 National meeting for all Labour members and supporters who support freedom of movement and migrants' rights
When? 10:45-17:30 Sunday 7 July 2019
Where? SOAS, London, WC1H 0XG
Free/donation to attend
Around the world and here in the UK, the racist right-wing is on the march with its project to raise borders and attack migrants' rights. In the face of the Tory Hostile Environment and their new Immigration Bill threatening a massive expansion of border controls, of the gains by Nigel Farage's Brexit Party, and of Fortress Europe policies killing refugees in the Mediterranean, Labour must stand for solidarity, equality and freedom.
The Labour Campaign for Free Movement brings together Labour members and supporters – whatever our views on Brexit – to defend and extend free movement and migrants' rights. To tell the truth, loud and clear: stagnant wages, unemployment, crumbling services and the housing crisis are not caused by immigration but by the rich and powerful – exploitative employers and the successive governments that have looked after their interests. And in place of scapegoating, to demand real solutions – jobs, rights, homes and services for all of us.
Some on the left think we need to accommodate the anti-migrant agenda – we say #BuildUnionsNotBorders!
Join us for a day of workshops, discussions and planning to shape the campaign's next steps. There will be opportunities to get involved by standing for our Steering Committee or volunteering for a working group.
Topics will include:
💥 Making free movement into Labour Party policy
💥 Ending detention centres, the hostile environment and "no recourse to public funds"
💥 Defeating the Tory Immigration Bill
💥 Equal voting rights for migrants – #LetUsVote
💥 Tearing down Fortress Europe
💥 How to #BuildUnionsNotBorders and win the argument in the trade unions
💥 And more…
Speakers confirmed so far include:
📢 Laura Parker, recent MEP candidate
📢 Ian Hodson, Bakers' Union President
📢 Julie Ward MEP
📢 Dr Sonia Adesara, Docs Not Cops
📢 Pragna Patel, Southall Black Sisters
📢 Project 17
📢 Mark Boothroyd, nurse & Unite/RCN activist
📢 Ruth Cashman, Lambeth Unison Joint Secretary
📢 Emma Jones, Close Campsfield / These Walls Must Fall
📢 and many more TBA
Does it cost anything?
You can reserve a place completely free. When you register you can make an optional donation – please consider doing so if you can afford it – this helps us keep the event open to everyone, and sustains the campaign.
Do I have to bring my printed ticket to the event?
No, the meeting's welcome desk will have your name. If you forgot to register, you are also free to attend if we're not over capacity – but registering in advance helps us organise.
I need childcare during the event or have specific access requirements
We will run a creche according to demand and will do our best to meet any access requirements – please just let us know in advance by giving details in the registration form.
How can I contact you with any other questions?
Please email info@labourfreemovement.org