Free Osime Brown: lessons of the campaign
Posted: 24 September 2022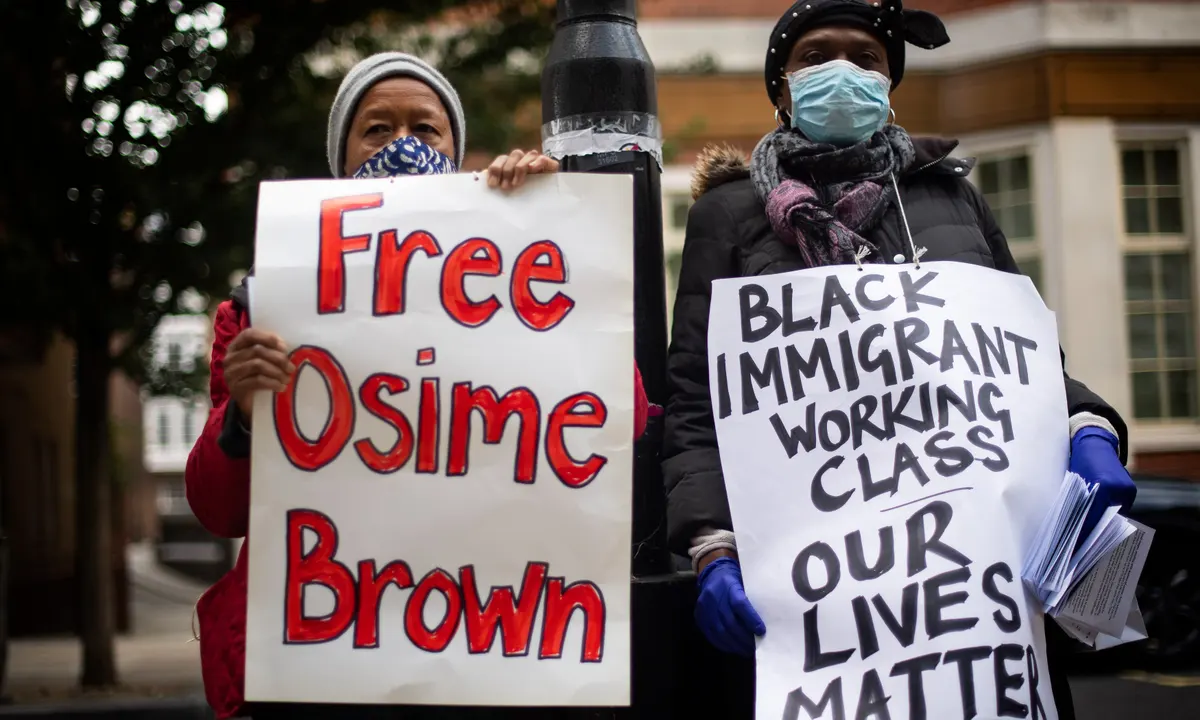 This article appeared in our magazine for Labour Party conference 2022
In June 2021, it was announced that Osime Brown would not be deported following a long campaign led by his family. Here, we reflect on that success.
The first thing to say about the campaign to save Osime Brown from deportation is that it should never have been necessary. No amount of joy and relief that a particular deportation order was withdrawn can absolve the authorities who issued it – or cancel the trauma caused by the threat of deportation. Osime and his family were terrorised by the state for years. Their suffering should never be obscured even as we celebrate the positive outcome of a struggle in which the Labour Campaign for Free Movement is proud to have played a part.
What then are the lessons of a successful anti-deportation campaign? One is undoubtedly the power of advocacy to challenge official narratives. Another is about the importance of building alliances as Osime's brilliant mother, Joan Martin, did so well (enlisting the support of the autism and disabled communities as well as black lives matter and migrants rights' activists). And another concerns the vital importance of solidarity in the moment: of standing up and speaking out when it counts.
"All decisions are made in accordance with the law"
Many people, including MPs, spoke out for Osime, and they made a difference. But many others remained silent. It was depressing – at a critical point in the campaign – to receive generic responses from a number of Labour MPs who confined themselves to "monitoring developments" in the erroneous belief that MPs "cannot comment on ongoing legal matters". These emails invariably ended with the message, "I would like to see a fair and humane immigration system, built on human rights." So would we all. The question is what we are prepared to do to get there.
The day that the Home Office finally abandoned its persecution of Osime, its spokesperson issued the following statement: "In order to protect the public it is right that foreign nationals, convicted of crimes with prison sentences of 12 months or more, are automatically considered for deportation under the 2007 Borders Act. The Home Office reviews all cases when new information is provided and all decisions are made in accordance with the law."
This was the only official public comment on the case, and it should not be forgotten.
For the alleged crime of stealing a friend's mobile phone, the British state had been prepared to exile a young autistic and intellectually disabled man, who had lived in the UK since early childhood, to Jamaica, a country where he knew no one.
The young man's mother had been forced to plead publicly for her son's life, arguing that the deportation order amounted to a death sentence since her vulnerable son would be unable to survive on his own. To all of this, the state offered no reply beyond the usual bland refusal to comment on individual cases.
Now the deportation was being cancelled, following a prolonged public outcry. The final word from the Home Office contained no explanation, let alone an apology. There was to be no expression of remorse, no pretence at accountability or "lessons learned".
The message is clear. The lethal machinery of the Hostile Environment is still in operation, even if, in this case, the mechanism was halted. Politicians will continue to oil the machinery with the rhetoric of public protection. The conveyor belt of terrified lives will roll on; it is, we are told, automatic. There have been many Osime Browns whose names and faces never came to public attention. There will be more.
"Dangerous foreign criminals"
The public is asked to imagine a dangerous criminal with minimal connection to this country. But the barest retelling of Osime's story confounds the narrative. For one thing, a boy who has lived in the UK since the age of four is not a 'foreigner'; he grew up here, was failed by our institutions and remains our responsibility. Others may be born in Britain yet remain legally 'foreign'. As Kate Allen, Amnesty International UK Director, said, "It is a grotesque injustice that children who grow up in this country continue to be excluded from their citizenship rights then threatened with banishment by the Home Office."
The open letter against Osime's deportation asked whether "the life of a young black disabled person should weigh less than a stolen phone." One reason that the case caused outrage is that Osime (who was convicted under controversial joint enterprise laws and has always protested his innocence) does not fit most people's idea of a "serious" criminal. Nor in fact do many of those deported on the mass charter flights of which the Home Office is so proud. 
Behind the mask of the "dangerous foreign criminal" lies the backdoor reintroduction of penal transportation for relatively minor offences. Evidence of rehabilitation, of lives rebuilt, is ignored to deport people who served their sentences years earlier. Their British counterparts (convicted of the same offences) are free to re-join their families (Britain stopped deporting British criminals to Australia in 1868). This is a form of "double punishment" that disproportionately affects black and brown people and violates the idea of natural justice.
Victory and hope
In the case of Osime, enough people saw his face that nearly half a million of us signed a petition. Regular demonstrations, an Early Day Motion in Parliament, and the intervention of 100+ prominent public figures (co-ordinated by LCFM) all kept Osime's face in the public mind. The deportation order was rescinded.
Hope comes from the same place it always came from: the knowledge that people can be better than their governments. Ignorance and apathy do not have to prevail, and we can do more than wring our hands and wait for better times. If enough of us refuse our consent, the Hostile Environment will be impossible to maintain. Osime's case is a beacon of resistance. "Because of you, Osime will remain in his home," Joan Martin told campaigners last year. "I have a restored trust in humanity. You have demonstrated what love looks like."